Just over a month ago I listed my Ridley X-Trail on Craigslist and started looking for a replacement.  At the time I had the "Which Bike Should I Buy" copy of Bicycling magazine to look through.  Out of the dozens of pages of bike recommendations for various specialties and criteria, the one that resonated most with me was "I want to go bike camping."  (I guess bikepacking isn't a common enough term yet.)
The main recommendation was a Salsa Fargo 27.5+ with the Salsa Cutthroat and Salsa Warbird as nearby options.  I was looking for something between gravel bike and rigid mountain bike, so the 27.5+ wheels didn't entice me.  The 29er version of the Fargo didn't either – it weighs in at 28 lbs.  That's a lot for a rigid mountain bike!  The Warbird is very similar to the X-Trail, so that's not what I wanted either.  What about the Cutthroat?
I never considered the Cutthroat as a bike I wanted ever since it debuted during the 2015 Tour Divide.  In my mind it was a racer-only bike.  Plus my Mooto-X set up rigid could achieve nearly the same purpose.  Well, I started considering it.  The Cutthroat has a LOT of features that I really like:
Six bottle cage mounts – three in the triangle, one under the downtube, two on the fork!
Thru-axle spacing
Accepts a 28/42 chainring (or 38t 1x)
Carbon fiber fork
The thing is meant for events like the TD, so I feel less bad about subjecting it to tough conditions
Decently light at ~23 lbs
A local shop had one in stock so I stopped by for a test ride.  I loved it!  It fills the gap between gravel bike and rigid mountain bike perfectly.  A week or so later, I was the proud owner of a new Cutthroat.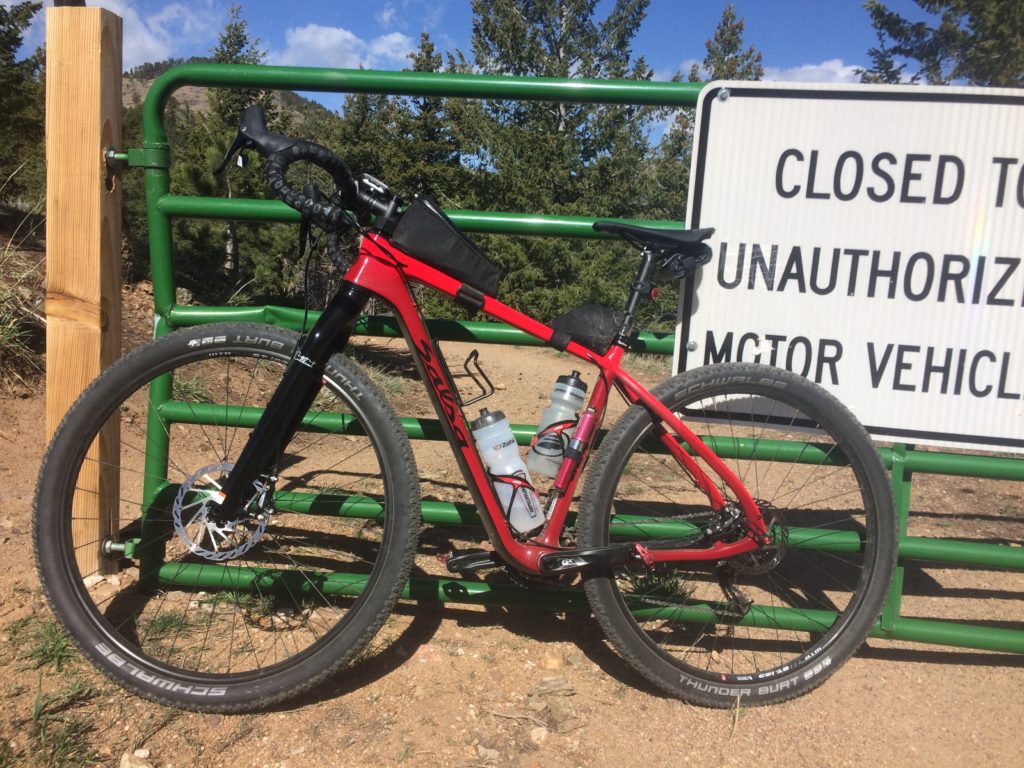 Impressions
One month in, I'm still extremely pleased that I replaced the X-Trail with the Cutthroat.  It does everything that I want it to.
The Cutthroat is noticeably more aerodynamic that the rigid MootoX.
It seems to be comfortable enough for all day rides, though I've only done ~5 hours max so far with zero discomfort.
I LOVE having three bottles (2x 750ml + 1x 1l) inside the triangle for long, remote adventures.
With the X-Trail I was worried about scuffing/damaging the matte carbon fiber.  I feel less worried about that with the glossy Cutthroat finish.  Weird.
Getting in the drops on steep climbs helps keep my weight down/forward and is surprisingly stable.
On rough or fast descents, getting in the drops is also preferred for extra control and braking power.
I'm not as confident on rough descents as on the MootoX.  I think it'll improve in time, but IMO MTB bars offer more control.
The MRP Rock Solid fork seems to dampen vibration more than the Cutthroat fork.
My hands do get a bit sore after being in the drops for long descents.  I think this is part of the adjustment phase, though.
The rear end of the bike feels "springy" compared to the MootoX YBB.  A few times on washboarded downgrades my underside would get smacked if I hovered just out of the saddle.  I'm sure a change in technique will fix this- either stay on the saddle or give it room to move.
Updates
Within the first few rides I set the wheels up tubeless (I measured a weight saving of ~100g per wheel), upgraded the front rotor to 180mm, swapped the stock saddle for a Specialized Phenom, and wrapped much the frame in protective tape.
The stock drivetrain comes with a 24/36 chainring and 11-32 cassette.  I wish it came with a 28/42 chainring and 11-36 cassette to have a much higher top gear without sacrificing much on the granny end.  My personal gear ratio/speed calculation shows the stock drivetrain running from 3.84 to 27.93 mph at cadences of 60 and 100, respectively, compared to a range of 3.98 to 32.59 mph with the 28/42 + 11-36.  I'm considering swapping my spare MTB 2×10 drivetrain (which can achieve these ratios) onto the Cutthroat down the road, but I haven't researched the compatibility issues with the shifters.  Maybe I'll change my mind when I load it up with bikepacking gear.
Rides/Adventures
So far I've been able to take it on a few decently large weekend rides.  Rides I would never consider doing on the X-Trail.  That's how I know this is the right bike for me.
Gross Res Loop
50 miles, 6200ft elevation: Up, up, up Super Flag, a quick paved descent to Walker Ranch, then some gravel, 4WD, and light quad trail to Gross Reservoir via 86J.  Wave to some bikepackers as we cross paths.  Filter water, eat, and watch helicopters pull water from the reservoir for firefighter training.  Backtrack on the trail to Flagstaff Rd then descend to South Boulder Creek below the dam.  Filter more water and pat myself on the back for climbing 5,000+ feet over 27 miles so far!  Climb away from the creek for 3.1 miles.  At the top, reach 6,100 ft of climbing over 30 miles.  Nice!  I earned the LONG paved descend to CO 93 (though I wish I had a 42t big ring).  Take CO 93 all the way into Boulder.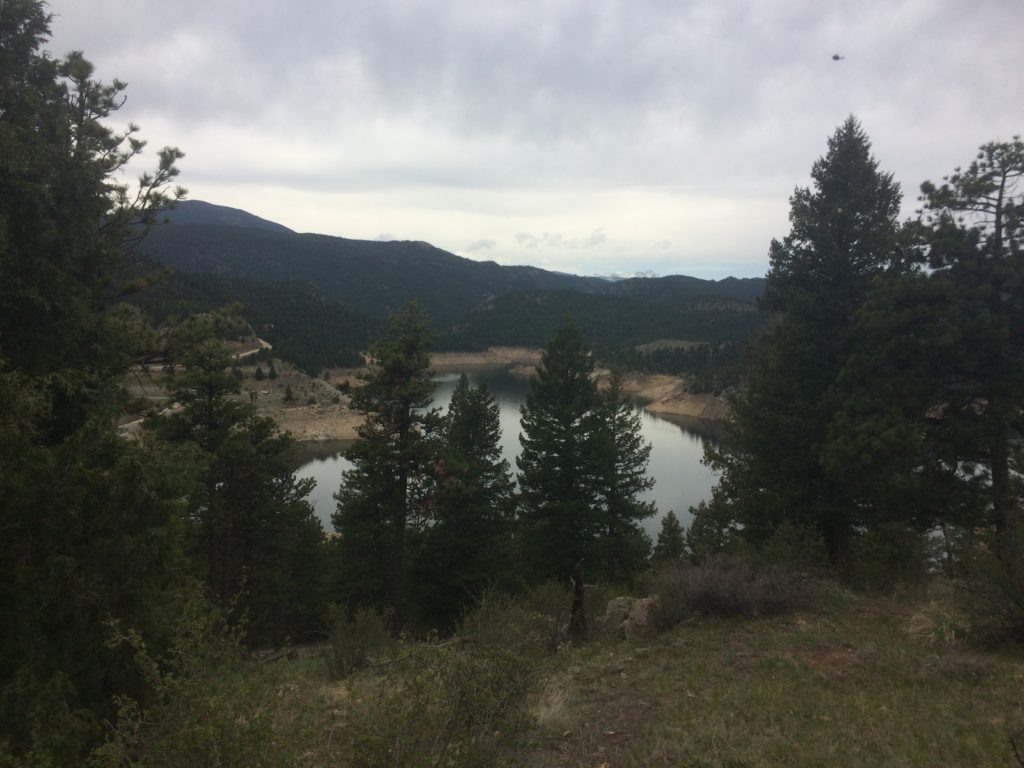 Spring Ramblings
42 miles, 5500ft elevation: start with the long, steady ascent up Fourmile until the Salina Junction where the climb becomes double steep.  Four-ish ouchy miles later I've reached Gold Hill.  Continue straight at the stop sign and start the 1-mile 14% rough downgrade, riding the brakes more than I should.  Take a left on Lefthand and continue back up.  Time to start earning back that 750 ft of elevation I just lost.  Grind away on pavement for 5 miles, then cut back onto gravel and climb steep again on Sawmill.  Don't look over your shoulder as you'll get vertigo.  Maybe it's just me, though.  Top out and start on up-and-down-but-mostly-down gravel back to Gold Hill.  Once through GH climb up the 0.3 mile, 11% ass kicker climb before the Sunshine Canyon descent.  Descend down Sunshine – first gravel, then pavement – all the way back to Boulder.