Think about all the people you know. Everyone's life is unique. No two people have followed the same path through the maze. Still, our lives are generally defined by a timeline:
1) Ages 5-20: education
2) 20 – 65: career
3) 20 – 25: get married & buy a house
4) 25 – 55: raise kids
5) 65+: retirement
The timeline is reinforced by people around us that have bought into it. Conforming takes no thought. Conformity is easy.
I graduated from college just over a year ago. I have a job (but no girlfriend), so the next milestone is homeownership. But is that right for me?
I'm living in Boulder, Colorado. A super-cool, super-laid back city with unparalleled access to the Rockies and all the outdoor activities that come with them. Along with all sorts of top rankings, Boulder is home to the University of Colorado at Boulder and its 50,000 students.
This superfecta has created a prohibitively expensive housing situation.
I'm renting an apartment now. It's a nice place: less expensive than average for the area, small, clean, nice management, a few miles from work, close to mountain bike trails, and excellent road biking routes. My apartment is on the second of three floors, so it is insulated enough for me to never turn the heat on in winter. Nor A/C in summer. I have no complaints, except the $10,000 per year I throw away in rent. That is $10,000 that is not gaining interest. $10,000 that isn't building equity. I complain about that often.
The conventional path is to buy a house, condo, or apartment. At least then I'd be building equity with every mortgage payment. But Boulder real estate is incredibly expensive. While I can live happily in a studio apartment, I'd opt to buy something a bit bigger – like two beds one bath. From what I've seen, prices generally increase 50% going from a studio to a 2 br/1 ba. I feel like that size is easier to rent out in the future. And right away I could choose to have a roommate to help cover costs. One downside is that the properties in my price range are condos with HOA fees. I'm not a fan of that nor paying off a debt over many years.
One non-conforming path is to live in a tiny house like the one below.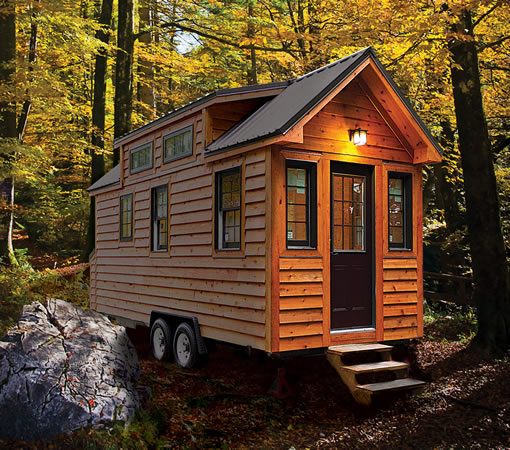 Tiny houses like this are 100 – 150 sq. ft. dwellings consisting of just the necessities: kitchen, bathroom, sleeping loft, and a common room. Zoning restrictions indicate that houses on a foundation must be a certain square footage to be considered "livable." That limit is well above what I (and many others) have decided is right for ourselves. The loophole is to build a tiny house on a trailer for it to be classified as a "travel trailer" – like an RV.
I like the idea of living deliberately without cruft. Some people might say, "but there's no room for all my stuff." I say, "there's no room for me to accumulate a bunch of stuff. Yahoo!" Think about the word "possession" – it goes both ways, but I digress. These quaint cabins on wheels can be bought for $50,000 or self-built for $25,000 in materials. For what a lot of people pay for a new car, you can have a complete (albeit…concise) house.
I'm exploring this avenue right now. Researching zoning laws in Boulder, home construction (to see if building it myself is wise), and even flexing my long dormant AutoCAD muscles as I draw up custom plans.
Tiny houses are at the forefront of my mind right now, so I'll probably post more on this topic. I may even share progress on my design. I'll admit, I'm very proud of the CAD work I've done.