I'm leaving for the CO trail on Saturday, July 13.  I couldn't find anyone planning to ride at the same time as I have off work, so it looks like I'm starting alone.  I'm probably not going to do any daily blog entries until afterwards, but I will carry a SPOT tracker and upload photos to Flicker.
The Setup
Viscacha seat bag, harness handlebar bag, and gas tank from Revelate Designs.
Rear top tube bag and frame bag from Greg at Bolder Bikepacking.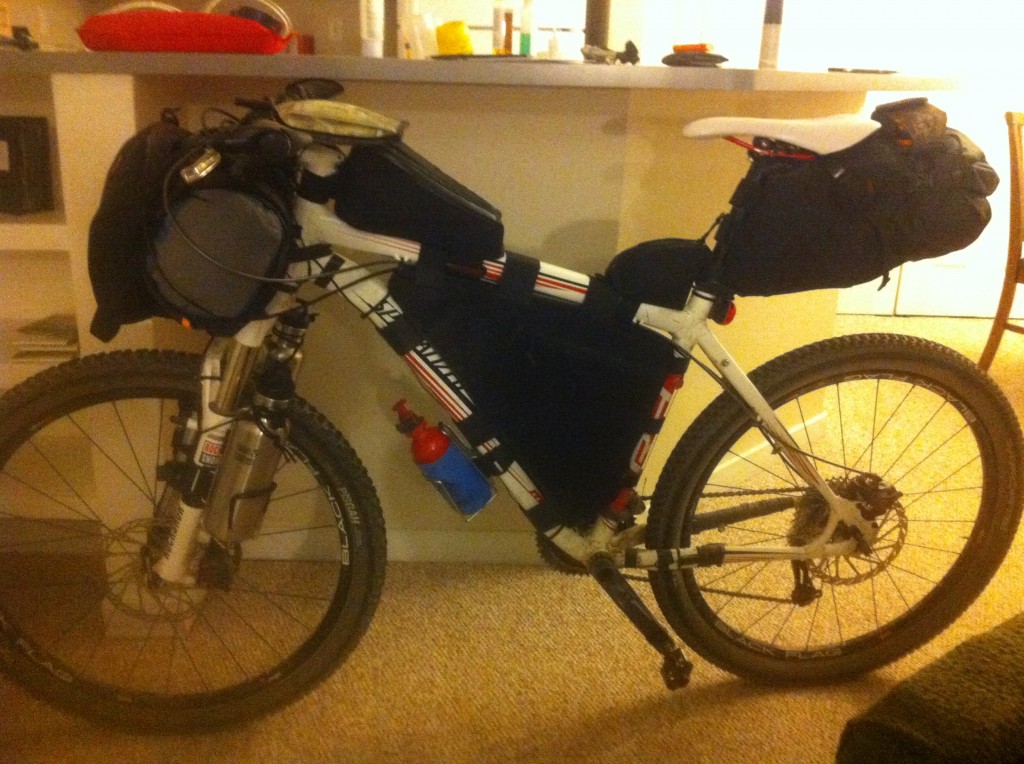 28 lbs of bike; 25 lbs of gear; a few more lbs of food/water.
Brief Gear Rundown
85 oz bladder in the frame bag, 2x 25 oz water bottles mounted to the fork, 4 liter bladder in the backpack (that will stay empty except in camp), and an MSR Sweetwater filter.
20 degree down bag, bivy bag, insulated ground pad.
MSR International stove, full cookset. 11 oz fuel bottle.
Nerves
With only a few days left before my trip begins, I'm alternating between being excited and being nervous/anxious.  All of the unknowns and things that could go wrong weigh heavy on me – lightening storms above the treeline, being uncertain about directions, camping alone at night, etc.  It was the same way before I boarded a bus from Chicago to New Mexico and began the Great Divide three years ago.  I just need to remind myself that once I get to the trailhead and start riding it'll be just like any other ride.  I'll deal with the things that go wrong as they happen, if they happen at all, and only worry about the next 50 feet.